Hey there! It's Giveaway number three this month on the blog! :D

I introduce to you the VAN + ELLO etsy shop! You are going to fall head over heels for this etsy shop. Every piece of jewelry is created from copper, brass, patina, & silver. These pieces are sure to give any outfit that extra something. What really rocks about this shop are the prices! Every piece is covetable. There's just nothing better than a beautiful piece of jewelry that's easy on the wallet.

Q&A w/ Jamie, the shop owner1.) Please tell us a little about Van + Ello jewelry.
Metal working is a fairly new venture for me. I've only been making jewelry for about two years, although I have been creating things and drawing all of my life. I received my masters in painting, but towards the end of my degree started experimenting with three dimensional forms. I have a tendency to reflect in my jewelry what I am currently working on in my sculpture and drawings, crossover is inevitable. I am working towards making designs that can be viewed equally as art objects and jewelry.
2.) What inspires you to create your jewelry?
1. Looking at beautiful things that have long been forgotten or beautiful things that could be reworked and made better. 2. Going to an egyptian tomb exhibit and admiring all the craftsmanship and then looking around and seeing all the imported mass produced junk in stores. I love looking at artifacts from extinct cultures and empires and discovering how they designed objects and machines differently. Tools and equipment before the industrial revolution are particularly fascinating. I love stumbling across old machines at flea markets and looking at how they were designed.
3.) Why do you choose to work with copper, patina, and brass over other metals?
Partly, it is the old world feel they contribute to my pieces. Oxidized Brass and Copper especially lend themselves to looking like something you could have stumbled upon in an archaeological dig. I like being able to imagine that my pieces could have come from somewhere else and have a secret history to them. I regard good design, originality and durability with much more esteem over the preciousness of metals. Working with less precious metals allows me to keep my prices lower so I can sell my pieces to people like myself. People that appreciate unique work and designs, but perhaps are on small budgets. If I made my work out of silver and gold, the prices would be three to four times higher.
4.) What is your favorite piece out of your entire collection? And what's your best seller?
It is a tie between the "Versailles" necklace and the "Sea Spray" necklace. They are statement pieces that can add to any look. They are large and bold enough to change the context of outfit and versatile enough to go with just a t-shirt and jeans.
5.) What type of girl do you envision wearing your pieces?
Someone who has an appreciation for handmade/one of a kind items and can tell the difference between something mass produced/machine made and something made by a pair of hands. I like to think that my work is worn by people like myself. Curious people on the quirky side that have large imaginations. Perhaps people who may have never purchased handmade jewelry before but would like to start a collection and be a part of the trend back towards supporting locally (US) made items and small businesses.
6.) Your pieces seem to have an edgy, bohemian, aztec feel to them. Would you say this reflects your own personal style?
I have an inclination towards odd things, and gypsy type garb. All of my favorite items are vintage. I have been collecting vintage clothing for just about as long as my mom stopped picking my clothes out for me. It started with me raiding her closet one day. She kept so many clothes from the 60's 70's and in such pristine shape. I still have a lot of them.
Some of my FAVE pieces from the shop:
Athena necklace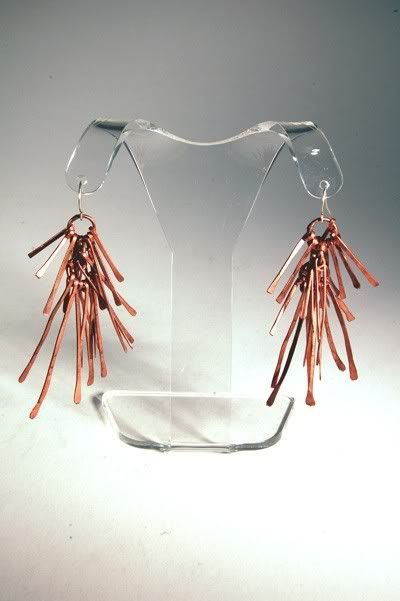 Burning Bush earrings
Cluster Comets necklace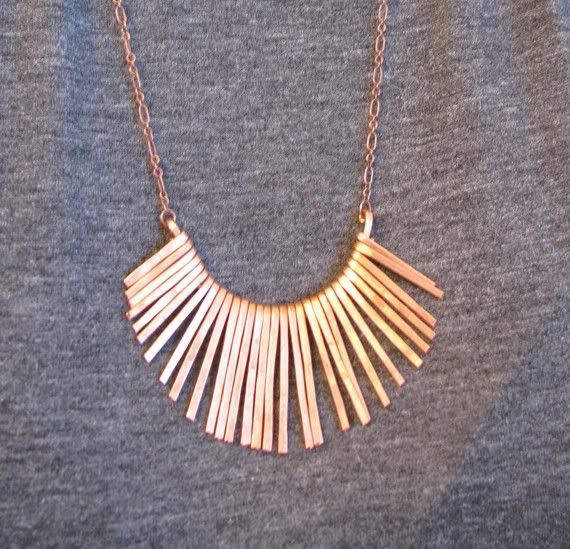 Rayed Crescent necklace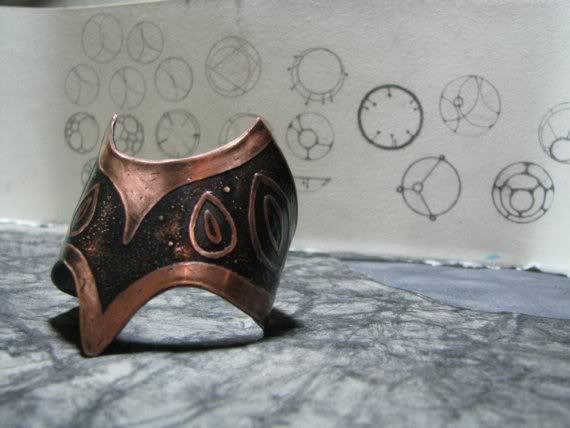 Four leaf cuff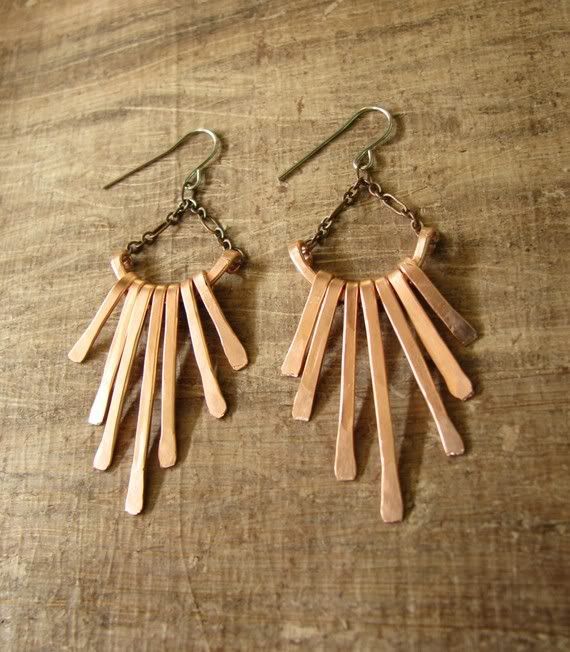 Frey earrings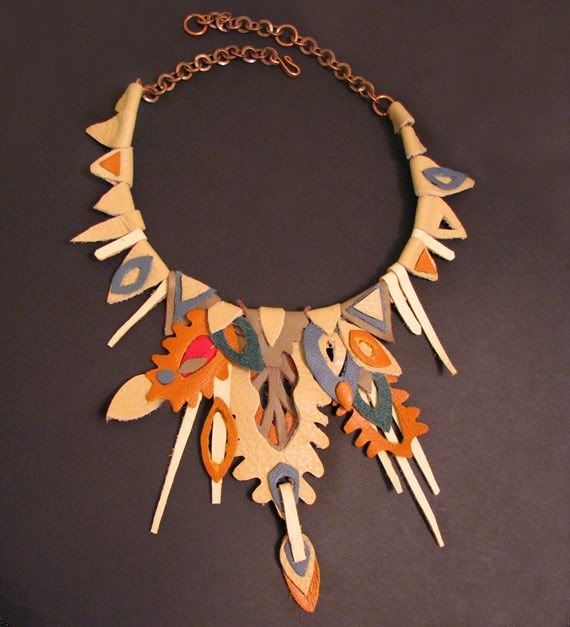 Halona Necklace dyed leather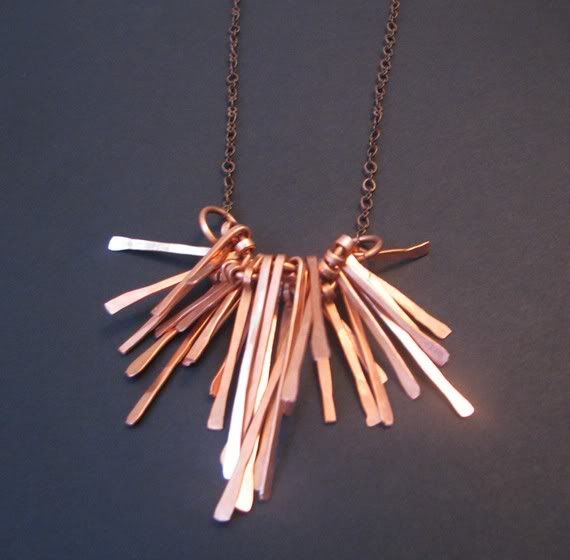 Plethora necklace
Seraph necklace
SW Copper Flares earrings
Three copper bars and freya necklace

Versailles earrings





Jamie is offering one lucky winner $40 credit to any item in her store
How Ah-mazzzzing is that??!!


***This Giveaway is Open to US Residents Only!***


How to enter:
[Please one comment]

1.) Become a public follower of Belle de Couture via Google or Blog Lovin' (please state how you are following in your comment).

2.) Visit the VAN + ELLO etsy shop and tell us your fave item(s) in your comment.


Additional Entries
[please leave a separate comment for each additional entry]

1.) Become a public follower of Belle de Couture via Blog Lovin' AND Google.

2.) Become a follower of BelledeCouture via facebook (Don't forget to state your FB name in your comment so I can find you!)

3.) Mention this giveaway on your blog and/or facebook page (Don't forget to leave a link to your post!).

4.) Add the VAN + ELLO etsy shop to your favorites if you have an etsy account.

**MOST IMPORTANTLY: Don't forget to leave your E-MAIL address in your comment(s), so we can contact you if you win!!**

The Giveaway will be open until Tuesday, January 25th at 6:00 PM eastern time.
The winner will be chosen at random by random.org

**Don't forget to leave your E-MAIL address in your comment(s), so we can contact you if you win!!**


GOOD LUCK EVERYONE! :)